Unlock the Power of Blockchain Trade-in: Sign Up Today and Claim Your $100 Bonus!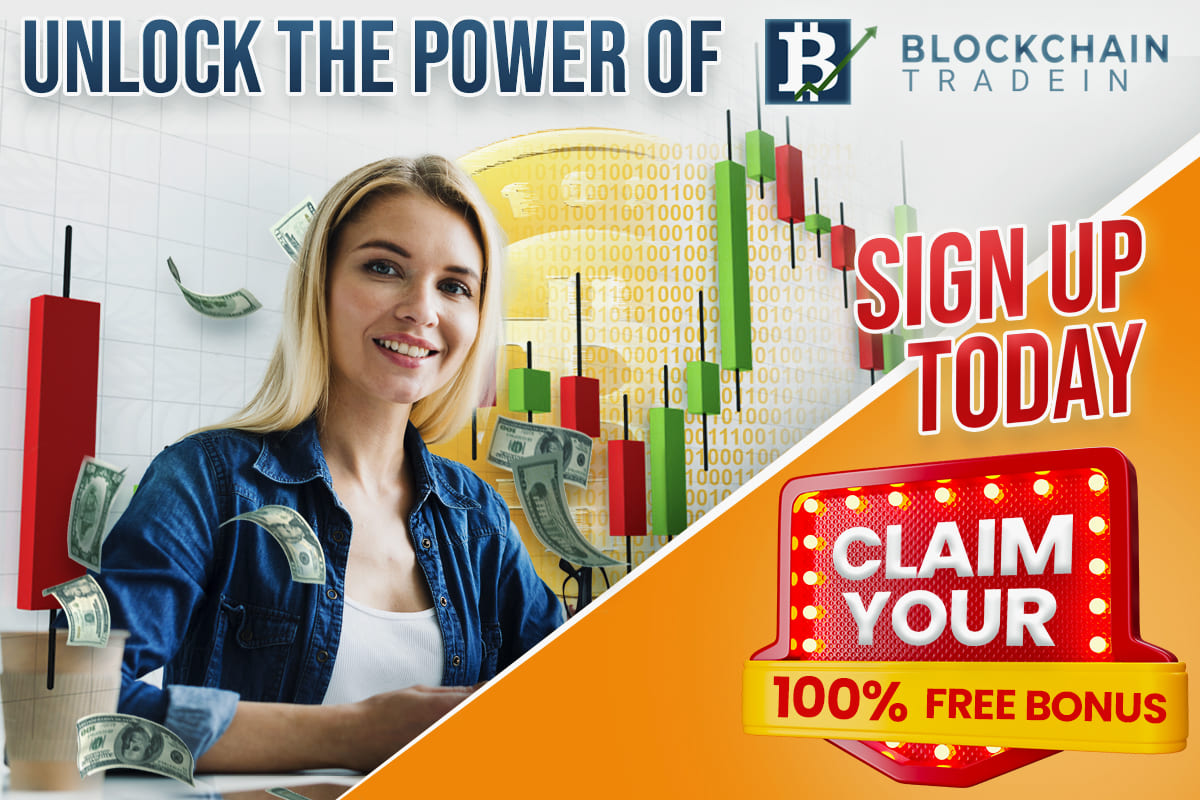 Unlock the Power of Blockchain Trade-in: Sign Up Today and Claim Your $100 Bonus!
Your Gateway to Blockchain Investments Have you ever given thought to creating financial wealth by exploring possibilities to invest in blockchain investment, as it provides countless opportunities? You do not have to look further than Blockchain Tradein, a cutting-edge investment advisory company that offers services based on blockchain technology. For a limited time, our team has the sole aim of encouraging new users to enhance their financial health by offering them for a limited time—a sign-up bonus of $100. Our aim is very clear: we are of the opinion that young investors can successfully create their wealth through the financial guidance that we are glad to provide.
Unleashing the Potential of Blockchain Trade-in:
We at Blockchain Trade-in have a firm belief that future investment, trade, and asset management will be revolutionized with the integration of blockchain technology. Blockchain technology is comparatively new and provides certain clear advantages. The blockchain technology is quite unique as it is transparent, secure, and decentralized. Thus, an investor can be confident in seeking strong returns and long-term value creation. We utilize knowledge, and we are firmly committed to consistently highlighting blockchain growth and breakthroughs. With such actions, we enable our clients to efficiently take advantage of these prospects.
Why Choose Blockchain Trade?
Unparalleled Expertise: Our team is made up of seasoned professionals who are aware of blockchain technology's complexity and are looking ahead to potential industry impacts. The reason for our success in remaining ahead of the game is that we constantly observe and analyze market trends, identify promising projects, and provide insightful investment advice.
Diverse Investment Options: At Blockchain tradein, we offer a wide array of investment opportunities in various blockchain-based assets. These investment opportunities include cryptocurrencies, decentralized finance (DeFi) protocols, non-fungible tokens (NFTs), and more. We carefully observe, analyze, and select the best option while considering our investor's different risk appetites and investment goals.
Robust Security Measures: We prioritize security to ensure that your investments and personal information remain safe and protected. For your peace of mind, we maintain a secure environment by utilizing the built-in security features provided by blockchain technology and combining them with strict security standards.
Claim Your $100 Sign-Up Bonus
To demonstrate our commitment to your financial success, we are offering a special sign-up bonus of $100 to new users who join Blockchain Tradein. The sole intent of offering an exclusive bonus is to provide the necessary head start as you embark on your investment journey while simultaneously exploring the vast potential of blockchain investments with confidence.
Getting started is quick and easy. Here's how to claim your bonus:
Visit our website at www.blockchaintradein.com.
Click on Sign Up and create your account.
Follow the instructions to verify your account.
Once we verify your identity, your $100 bonus will be credited to your account.
We extend our one-of-a-kind, limited-time offer to our new users. You can embark on your blockchain investment journey with an extra $100 as you open your account with us, so ensure that you do not miss out on this fantastic opportunity.
How to Choose a Reliable Investment Advisor
It is important that you choose a suitable investment advisor, as this can significantly impact your financial future. We have laid down a few steps for you to follow as you begin to choose and select.
Assess Your Needs and Goals: Start by clearly defining your financial objectives, risk tolerance, investment timeline, and any specific requirements. When you consider such steps, you will ensure that you find an advisor who aligns with your unique needs.
Research Qualifications and Credentials: Look for advisors who hold relevant certifications such as Certified Financial Planner (CFP), Chartered Financial Analyst (CFA), or Chartered Financial Consultant (ChFC). These designations demonstrate that the advisor has met specific educational and ethical standards.
Verify Registration and Licensing: Ensure that the advisor is properly registered and licensed. In the United States, you can check the background and registration status of investment advisors through the Securities and Exchange Commission (SEC) or the Financial Industry Regulatory Authority (FINRA).
Seek Recommendations: Reach out to trusted friends, family members, or colleagues who have had positive experiences with investment advisors and ask for their recommendations. Personal referrals can provide valuable insights to help you narrow down your options.
Conduct Interviews: Schedule meetings or phone calls with multiple advisors to discuss their investment philosophy, approach, and services. Inquire about their experience, track record, and how they would address your specific financial situation. Pay attention to their communication skills and their ability to listen attentively to your needs.
Understand the Fee Structure: Gain a clear understanding of how the advisor is compensated. Some advisors charge a flat fee, while others earn commissions based on the financial products they sell. Ensure that you comprehend all the fees involved and consider any potential conflicts of interest associated with the advisor's compensation structure.
Review Track Record and Experience: Inquire about the advisor's performance history and experience in managing investments. Request references from current or past clients, and consider checking online reviews or ratings for additional feedback.
Consider Their Fiduciary Duty: Before you choose any advisor, you should ensure that they operate under a fiduciary duty, which means they are legally obligated to act in your best interest. Fiduciary advisors prioritize your needs above their own and provide recommendations accordingly.
Evaluate Communication and Accessibility: Assess how the advisor communicates with clients and how accessible they are when you have questions or concerns. Clear and prompt communication is vital for maintaining a healthy client-advisor relationship.
Trust Your Instincts: After considering all the information and conducting thorough due diligence, trust your intuition.
Remember, selecting an investment advisor is a personal decision. Since it concerns your financial fund, it is advisable to take your time, conduct thorough research, and carefully consider the available options before making a choice.